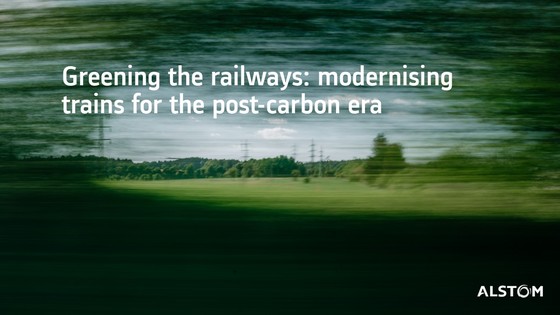 Greening the railways: modernising trains for the post-carbon era
Transport is one of the biggest global emitters of CO₂, and while rail is one of the most environmentally friendly ways to travel, there is still work to be done to reduce and eliminate the industry's carbon footprint and other emissions. Alstom's Services business is working on all fronts to cut emissions for its customers.
Alstom is one of  the world's leading rail companies and, as such, it is committed to helping its customers find solutions to meet their emission reduction objectives. Brand new trains running on hydrogen or batteries are just one part of the story; the existing train fleets running on the tracks today are being transformed through 'green modernisation'.
Trains need maintaining throughout their lifecycle – and this maintenance cycle provides an opportunity to retrofit trains with the latest technologies that have been conceived to minimise the environmental impact of the train, as well as improving its performance.
Environmental performance

• Optimising energy consumption (light, HVAC, braking, traction, parts weight…)
• Mitigating noise and particle emissions
• Integrating low environmental impact materials


Life extension and circular economy

• Extending train lifespan through overhaul and obsolescence management
• Enabling digital predictive maintenance
• Promoting a repair, reuse and recycling approach


Green re-tractioning

• Providing alternatives to diesel traction for non-electrified and low frequency lines
• Implementing battery, hydrogen re-tractioning
• Avoiding greenhouse gas emissions and limiting pollution

Alstom has an all-embracing global climate strategy, which includes three pillars: placing energy-efficient rail solutions at the heart of its portfolio, enabling the transition to sustainable mobility solutions, and decarbonising its operations.
The big issue is obviously the reduction of greenhouse gas emissions to limit climate change, but clean and green rail also means reducing pollutants such as NOx from exhausts, which contribute to respiratory difficulties in urban populations, and cutting down on train noise.
Alstom's green modernisation offer to customers falls into two main categories: green re-tractioning and train-life extension. Green re-tractioning is the name given to solutions that can replace or reduce the use of diesel.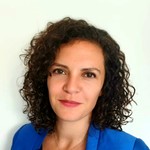 Major train lines, certainly in Europe, are electrified, which means that, coupled with electricity generated from renewable energy sources, rail has the potential to be carbon-free. However, there are still many lines that use diesel trains, some 45% of the European network, often where low traffic volumes make electrifying the line uneconomic. In the US and Canada, 90% of trains still run-on diesel.
Alstom has developed two solutions for replacing diesel engines: engines that use hydrogen as a fuel source, via fuel cells, and engines powered by electric batteries. Hybrid solutions to reduce CO₂ and NOx emissions are also available, to make part of a journey emission-free where complete transformation is not possible, for example, enabling diesel trains to run on electric batteries for the section of their journey through urban areas.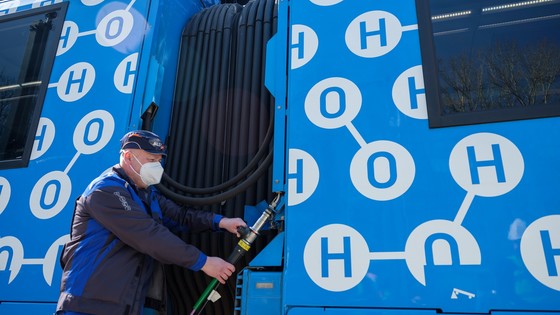 Up to 35%
of a train's energy consumption can be saved by using new traction systems that allow regenerative braking
90%
of trains in the US and Canada are still run-on diesel
100%
renewable energy target by end of 2025
Jean-Paul Moskowitz, our Green Modernisation Solutions Development Manager, explains the choice is all down to customer requirements: "The best solution to meet the customer's needs depends on many parameters, including speed, the length of non-electrified lines, time for refuelling or recharging, the length of platforms, fleet age, compliance with technical specifications for interoperability and standards, the mission profile, and possibilities for installing infrastructure for hydrogen refuelling or for recharging electric batteries."
Train-life extension is the other important area for reducing emissions. It allows customers to improve performance and reduce energy consumption and environmental impact. Adding 20 years of useful life to an existing train, while incorporating the latest technologies, gives customers effectively a 'new' train with their old assets.
Camille Rozanes, who works in Alstom Services' Sustainable Solutions, explains that green modernisation goes beyond saving energy and reducing emissions: "Concerns are now emerging regarding the availability of natural resources. We know that we are going to lack many resources in the future and there are significant economic and environmental challenges to tackle this issue. The circular economy is a key consideration today, to ensure that we can optimise the use of resources in the way we manufacture and keep the resources in the railway industry loop."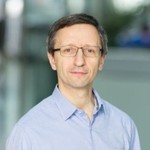 Therefore, parts that have become obsolescent can be re-used and repaired, or recreated via 3D printing. New, low-impact materials can be introduced in refurbishments, while old equipment is recycled into new, useful products. This is all part of achieving a circular economy, where old and new train parts are reused and recycled to the maximum.
A good example of this is the current renovation of Avanti West Coast's Pendolino trains, the largest interior refurbishment project in the UK. Working alongside Angel Trains, one of Britain's leading train asset management companies, Alstom is installing new tabletops made from recycled PET bottles and new, biodegradable wool carpets. The old carpets are being stripped out and converted into solid recovered fuels for the cement industry.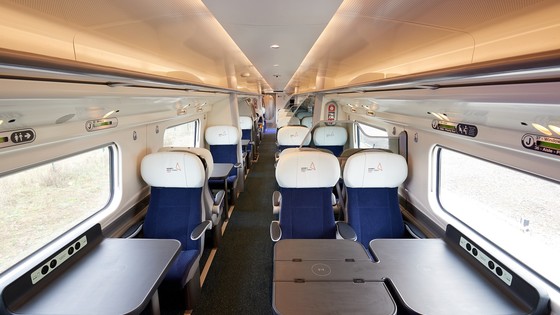 There is a raft of modifications that can hone the energy consumption of working trains to a minimum. Driver advisory systems calculate how to run trains to timetable while minimising braking on routes – lower speeds with less use of the brakes saves energy. New traction systems that allow regenerative braking – where the motion of the train is harnessed to power the brakes – can save as much as 35% of a train's energy consumption, not to mention saving on wear-and-tear on train wheels.
HVAC and lighting systems, traditionally energy guzzling, can be refurbished to achieve considerable savings as well as improvements in carriage comfort.
It doesn't stop there. Alstom is committed to reducing the environmental impact of its own sites and activities, with a target of certifying all its sites ISO 14001 by 2025 and using 100% renewable energy by the end of that timeframe. "Alstom today is positioning itself as a leader in terms of sustainable mobility. We try to make sure that we are ahead of the legislation, and to propose sustainable solutions that point the way forward for the railway industry," concludes Camille.