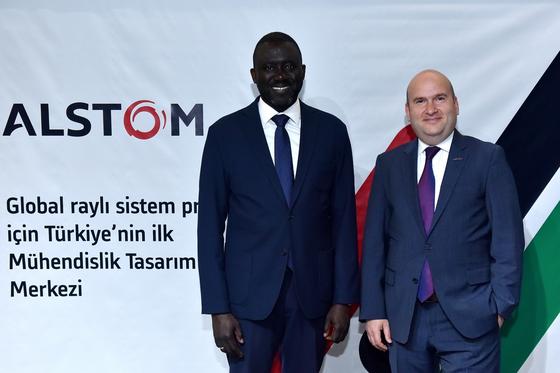 Alstom expands presence in Türkiye with new Engineering Centre at Teknopark Istanbul
Press releases and news
08 May 2023
Alstom expands presence in Türkiye with new Engineering Centre at Teknopark Istanbul
The first investment by a global railway company in Türkiye in engineering design and application

Engineering Centre will allow for increased autonomy and real time customer support

The Engineering Centre will support projects outside of Türkiye including Africa, Middle East, and Central Asia
08 May 2023 – Alstom, a global leader in smart and sustainable mobility, has announced the opening of its first Engineering Centre in Türkiye. The Centre will focus on railway signalling and is based in Teknopark Istanbul. This is the first investment by a global railway company in the country for engineering design and application. The regional centre is part of Alstom's localisation strategy to develop critical know-how in the country and develop a local pool of highly qualified engineers responsible for key signalling technologies such as Interlockings, ATC[1], and ETCS[2]. The Engineering Centre will serve Turkish and regional customers and will expand to become a global centre of excellence supporting Alstom customers worldwide.
Alstom has recently launched engineering centre which specialises in railway signalling, will provide real time support to projects in Türkiye, allowing for better management of customer needs and improved local content. The centre will continue to grow and support customers beyond Türkiye, including in Africa, the Middle East and Central Asia. As part of the onboarding, Alstom will provide training which includes both online course work and on-the-job learning opportunities in signalling, safety assurance, integrated control centre & system engineering and other technical expertise related to management, operation, and maintenance including supporting the monorail project. As part of their on-the-job training, engineers will be sent to established engineering centres located in France, Italy, India, Spain, and Sweden, where they will have the chance to work with and learn from experienced professionals, helping them to develop their skills and knowledge.
The new Engineering Centre is part of Alstom's global service hub and includes a real laboratory for software testing in partnership with Alstom's labs in Madrid and Rome. This laboratory will enable crucial testing to be conducted in Türkiye, including software assessments for the metro and mainline lines. The Centre will also provide training courses for our customers, to help them develop their workforce and ensure we continue to build strong rail expertise in the country.
"We are thrilled to continue our longstanding partnership with Türkiye by opening a new Engineering Centre in the country. This move not only provides meaningful train and hire opportunities for talents but also strengthens our capacity to better serve our customers in Türkiye and beyond," said Boris Symchowicz, VP, Signalling and Infrastructure for the AMECA region at Alstom. 
"Türkiye has been a home to Alstom for over 70 years, and we are thrilled to establish a new Engineering Centre as a cornerstone of our efforts to expand mobility innovation in Türkiye and beyond. Alstom is committed to continuing to invest in the country, as we see Türkiye as an important partner with great ambitions to be a leading country in smart and sustainable mobility," said Volkan Karakilinc, Managing Director, Alstom Türkiye.
Alstom has been a leading provider of signalling and train control technology to provide turnkey transit systems for rail vehicles, metros and trams in Türkiye for more than 70 years. The Istanbul office serves as the regional hub for Alstom's Digital & Integrated Systems expertise and also provides project management, engineering, procurement, training and maintenance services for the entire region.
Alstom™ is a registered trademark of Alstom Group.
[1] Automatic Train Control
[2] European Traffic Control and Management System