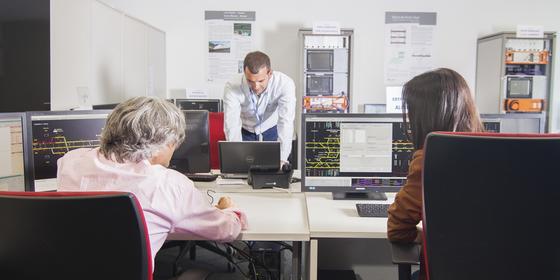 Alstom has been awarded a contract to implement Adif's innovation project on ERTMS for low density lines
Press releases and news
04 May 2023
Alstom has been awarded a contract to implement Adif's innovation project on ERTMS for low density lines
Alstom's centre in Madrid will implement an ERTMS for low-density lines development project.

Using new technologies such as sensors hybridisation (including satellite sensors) for positioning, this development and implementation will be a pioneer in Europe and will offer the same safety features as the system installed on high-speed lines.

Implementation and tests will be conducted on the La Asunción Universidad-Guardo section, part of the León-Araguren metric gauge line.
May 4, 2023 – Alstom, global leader in smart and sustainable mobility, has been awarded by Adif, railway infrastructure manager, a contract to develop a railway safety innovation project in Spain. The project, valued at €13.7 million, consists of the development of a new ERTMS (European Traffic Management System) system application designed explicitly for low density lines. The contract includes the installation and testing on a pilot line of the General Interest Railway Network (on the La Asunción Universidad-Guardo section, which is part of the León-Aranguren metric gauge line).
This R&D&I project, managed by Alstom's railway safety and signalling technology centre in Madrid, aims to develop a new application of the ERTMS standard for low density local and regional lines by introducing satellite technology -among others- and public telecommunications networks. The initiative proposes using novel train positioning systems (such as sensors hybridisation, including satellite sensors) or public communication networks instead of GSM-R networks.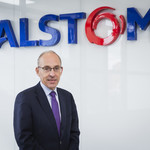 "It is a great satisfaction to once again develop a pioneering project with Adif. We were already the first to implement a level 2 ERTMS system without the support of level 1 on the high-speed network, to develop the first fully automatic train in operation in Spain, to implement ERTMS technology for suburban networks and to promote the monitoring of passenger flows in urban networks through Big Data. This new project reaffirms Alstom's position in Spain as a technological and innovative leader in rail safety and signalling," said Leopoldo Maestu, President of Alstom Spain and Portugal.
The European Traffic Management System is the most advanced train command and control system adopted by the European Union for signalling and communications between the track and onboard equipment. The development and dissemination of this European system for rail traffic management has contributed in recent decades to safe and interoperable railway operation, with a large deployment on international lines. However, its adoption out of the mainline has been more limited due to its high cost and difficulty ensuring compatibility with the installed equipment.
This new system, which is now being developed with the innovation project, distinguishes itself by having less on-track equipment, while matching the safety performance of the ERTMS usually implemented on high-speed lines. Moreover, it is interoperable and homogeneous with the existing solutions. Secondary railway lines will benefit from the advantages and functionalities of the European standard: ERTMS significantly improves the quality of the service and its performance and conditions of reliability, quality and efficiency. In addition, it increases the system's transport capacity by reducing the intervals between running trains and lowering operating costs.
>120
ERTMS/ETCS projects worldwide
19,200
pieces of equipment installed
46,000
kilometres of track supervised
Leader in signalling
This innovation project adds to the cutting-edge signalling projects that Alstom has been developing in Spain over the last two decades, including the commissioning of the first ATP on the Mediterranean Corridor, the first driverless railway system at Madrid airport, and the first ERTMS level 2 without level 1 support on the Albacete-Alicante high-speed line.
Alstom in Spain has more than 650 experts for developing signalling solutions, two centres of excellence and test laboratories in Madrid, and project management centres in Leon, Sitges and Malaga. From its facilities in Spain, it develops and supplies digital signage and mobility solutions for more than 20 countries.
With over 30 years of experience, Alstom is a leading supplier of onboard and on-track ERTMS/ETCS equipment. Alstom has developed over 120 ERTMS/ETCS projects worldwide, installed 19,200 pieces of equipment and supervised 46,000 kilometres of track.
Alstom™ is a trademark of the Alstom Group.