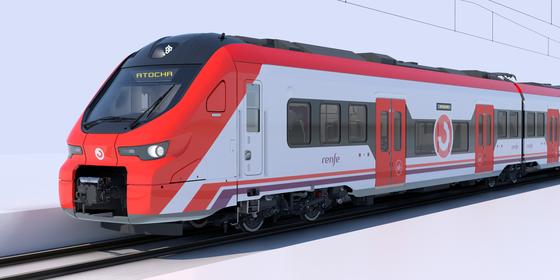 Alstom reveals the future design of the 201 Coradia Stream high-capacity trains for Renfe
Press releases and news
15 Jun 2023
Alstom reveals the future design of the 201 Coradia Stream high-capacity trains for Renfe
The Spanish Minister of Transport, Mobility and Urban Agenda, Raquel Sánchez, and the President of Renfe, Raül Blanco, visited Alstom's industrial site in Catalonia, where the future design of the 201 Coradia Stream high-capacity trains that Alstom will supply to Renfe in Spain were revealed.
The new trains, with 6 cars each (4 low-floor cars and 2 double-deck cars), will have capacity for more than 900 passengers. The 12 doors on each side, evenly distributed along the train, improve station dwell time by speeding up passenger flow and the transport capacity of suburban networks. In addition, the future trains, fully accessible for people with reduced mobility, will have spaces for PRM chairs, and multifunctional spaces for bicycles, suitcases, baby prams and more.
201
Coradia Stream high-capacity trains
>900
passengers will be able to ride each train
56
of the trains will be maintained for 15 years
Technically, the new vehicles will be equipped with state-of-the-art equipment to improve  reliability and punctuality. In addition, technology implemented will allow for thousands of data per second to be collected from the entire fleet. This real-time information ensures more efficient operational decision-making, which will result in a better service for commuters.
The first three units that are currently being manufactured and the validation and certification process will begin in 2024. Once this is over, series production of the remaining 198 units will begin, with the aim of delivering between 3 and 4 trains to Renfe each month.
During the visit to the factory, accompanied by Alstom's Managing Director for Spain and Portugal, Leopoldo Maestu, the Spanish Transport Minister and Renfe's President have reminded us that this order is the biggest ever in Spain. The contract for manufacturing these 201 Coradia Stream high-capacity trains amounts to 1.8 billion euro, including supply of spare parts and maintenance for 56 of the trains for 15 years.