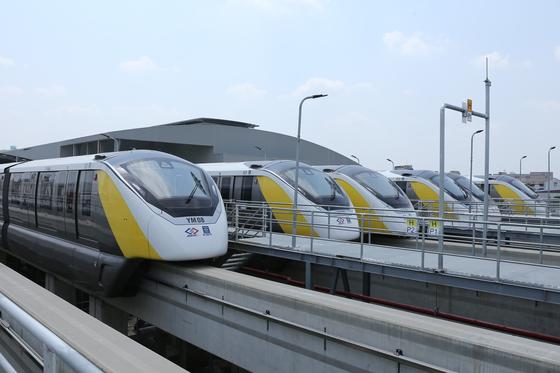 Alstom's automated Innovia monorail system enters service in Bangkok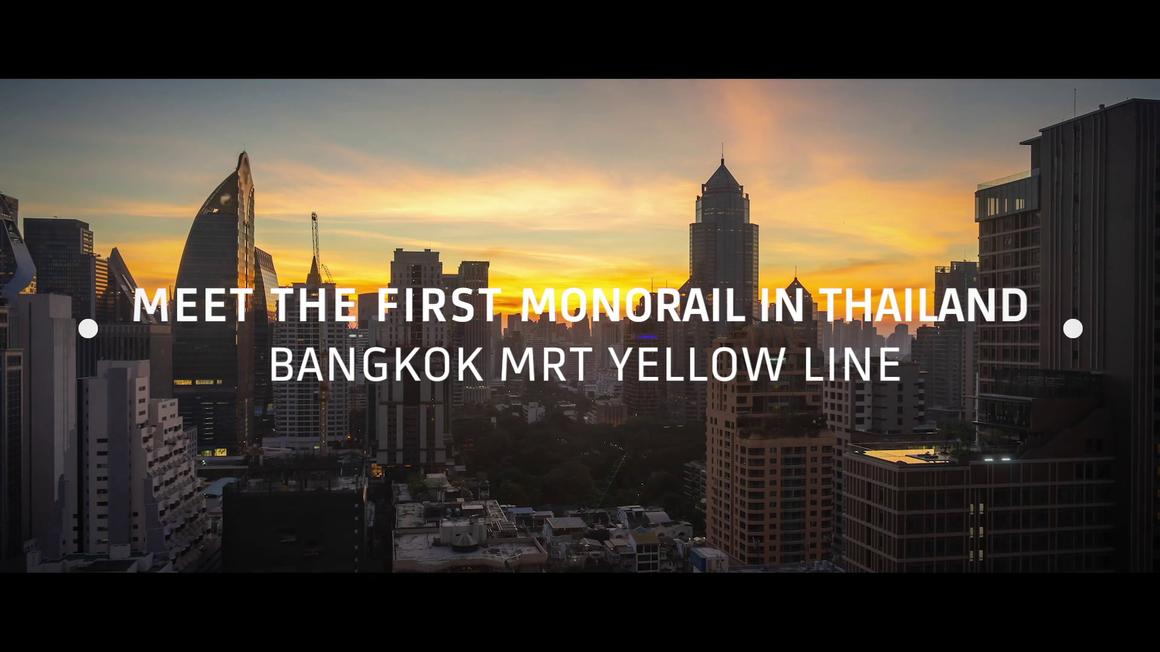 The

30.4 km

Yellow Line has

23 stations along the heavily congested Lat Phrao and Srinagarindra road corridors.

It is planned to link with six other rail lines in the

middle north-eastern and eastern areas of Bangkok.

The

driverless monorail system will be able to operate at speeds of up to 80 km/h and carry a maximum of over 200,000 passengers per day.
20 June 2023 – Alstom, global leader in smart and sustainable mobility, announces the entry into passenger service of the MRT Yellow Line in Bangkok. The Eastern Bangkok Monorail Company Limited, operators of the Yellow Line, awarded Alstom the contract to supply the turnkey Innovia monorail system in 2017. Bangkok's first driverless urban line features 30 four-car monorail train sets, fully-automated train control and integrated wayside railway systems. Alstom is also delivering the system for the MRT Pink Line, expected to enter service in 2024.
The project delivery, led by Alstom's Turnkey regional hub in Bangkok, included system integration, installation and test and commissioning of the Innovia monorail trains, Cityflo 650 GOA4 driverless signalling, communication systems, power supply and conductor rail, track switches, platform screen doors and depot equipment. The Innovia monorail trainsets have been manufactured at the Alstom joint-venture CRRC Puzhen Alstom Transportation Systems Ltd. (PATS) in China. Alstom is providing 20 years of long-term maintenance for most of the systems provided and has mobilised a team of 170 services professionals to support the two monorail lines.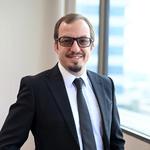 Alstom's portfolio of fully automated, driverless turnkey transport solutions is the ideal solution for the particular challenges of Bangkok's urban transportation. Designed to serve rapidly growing cities and dense urban areas, Innovia monorail systems are elevated and operate on dedicated guideways. This ensures a smooth service that does not interfere with surrounding road traffic. The solutions are characterised by exceptional route flexibility, outstanding availability and high efficiency in terms of passenger capacity, energy consumption and land use. The monorail also features spacious and open designs, low interior noise and vibrations as well as large windows to create a bright atmosphere and comfortable passenger experience.
The Full Trial Run Opening Ceremony on June 19th was attended by Prime Minister Prayut Chan-o-cha. Toby Tiberghien, Alstom's Managing Director East Asia commented: "Alstom does more than simply deliver operationally functional rail systems. We transform mobility at large, by pioneering smarter and greener mobility solutions to the benefit of all. The inauguration of Bangkok's Yellow Line is another step in transforming urban mobility in the densely populated capital and will provide passengers with a comfortable, safe and efficient journey, cutting journey times by a third."
23
stations along the heavily congested Lat Phrao and Srinagarindra road corridors
80 km/h
maximum operating speed for driverless monorail system
200000
passengers can be carried per day
As the leading global provider of integrated urban solutions with over 50 years of experience, Alstom has all the know-how, products and resources needed to implement turnkey solutions: from rolling stock and infrastructure to signalling and information systems and maintenance.
The leading rail technology company in Thailand, the Alstom Group employs more than 900 highly-skilled employees and delivers multiple mobility projects across and beyond Asia Pacific. Its Bangkok hub is also base to one of the two global railway engineering delivery centres in Asia Pacific, serving both the local and global markets in digital urban and mainline engineering. A pioneer in bringing innovative mobility solutions to Thailand, Alstom's portfolio includes Bangkok's first two driverless monorail systems and Gold Line automated people mover (APM), as well as advanced signalling for six urban mass transit lines and sections of the mainline network.
Alstom™, Innovia™ and Cityflo™ are protected trademarks of the Alstom Group