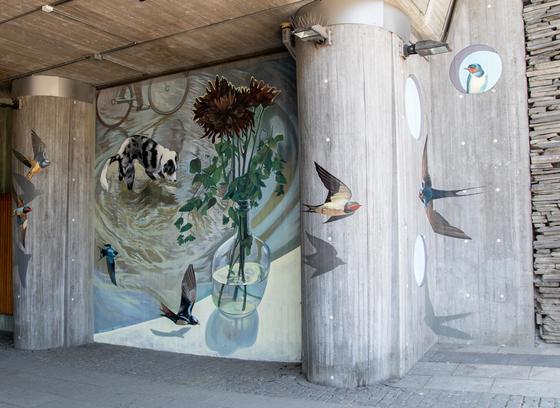 Celebrating legacy and mobility with art
To mark Alstom's 150-year-legacy in Norway, Alstom Norway engaged the Ukrainian artist couple Alex Maksiov and Tetiana Talanova to create two beautiful murals at Skøyen Station in Oslo.
"We wanted to celebrate by giving something back to society, something lasting and open to everyone," says Carl Åge Bjørgan, Managing Director of Alstom Norway.
Strømmen Verksted became part of Alstom's legacy through Alstom's acquisition of Bombardier Transportation in 2021.  Founded in 1873, the train manufacturer Strømmens Verksted is legendary in Norwegian rail history. It has built most of Norway´s train sets, as well as the first tramcars in Oslo. The factory was in operation until the 2000s.
Today Alstom has delivered one-third of all trains on Norwegian rails and have large contracts in Norway for trains, maintenance, and signalling systems.
"Norway is an increasingly important country for Alstom. We are proud to be part of Strømmens Verksted's 150-year-old legacy. The milestone was a great occasion to look at the past and the future of rail in Norway, and to celebrate," says Bjørgan.
Bjørgan and his team chose to donate street art to mark the anniversary. Bane NOR Eiendom offered two empty walls under the railway bridge at Skøyen Station, a few minutes' walk from Alstom's office, a perfect place for the mural paintings. Bane NOR Eiendom also provided lighting for the artworks.
The artworks were unveiled on June 8th. by Anne Lindboe, candidate for Major of Oslo. Her Excellency the French Ambassador to Norway, Mme Florence Robine was present at the unveiling, joined by a large group of cheering Alstom employees.
After the unveiling, Alstom gathered employees, industry professionals, and politicians in the historic setting of Verkstedhallen at Thune in Oslo. The program included a lecture by local historian Steinar Bunæs from Strømmen and a discussion about the future of railways and urban mobility with Carl Åge Bjørgan, Managing Director of Alstom in Norway, Rob Whyte, Managing Director of Alstom in the Nordic region, in conversation with State Secretary of the Ministry of Transport, Abel Cecilie Knibe Kroglund, and the leader of the Young Liberals of Norway, Ane Breivik.
Street Art at Skøyen Station
The street art was created by the Ukrainian artist couple Alex Maksiov and Tetiana Talanova. The renowned artists have created award-winning street art worldwide.
"We were captivated by their warm and powerful imagery and are grateful that they would take on the assignment," says Bjørgan.
The artists worked with the theme of mobility, with full artistic freedom. Sustainable mobility is fundamental and central to Alstom's business.
Artistic Collaboration
Alex Maksiov and Tetiana Talanova were supposed to complete the work together, but due to the war in Ukraine, Maksiov was unable to leave his country. Maksiov lives in Kyiv, while Talanova is now a refugee in Berlin. Maksiov created the sketches in his home in Kyiv, while Talanova executed her husband's ideas on the walls in Skøyen Station, communicating with him over Facetime.
"It was a pleasure to have Tetiana Talanova visit us. We witnessed the development of the artworks day by day. During the ten days that she was here, we felt she was part of our team. We admire the murals that now brighten the everyday lives of all who pass by in Skøyen," says Bjørgan.
Read more about the project and the interview with Tetiana Talanova and Alex Maksiov here (in Norwegian):