Mastria at a glance
Optimises all public transport assets
Reactive to incidents across a city
Incorporates all stakeholders in decision-making and execution
Delivers smoother journeys
Predicts and adapts to ridership variations
Alstom's multimodal traffic orchestrator helps city authorities achieve greater fluidity and capacity from their different transport services, predicting and adapting to passengers' flow variations, and responding to network incidents in real time.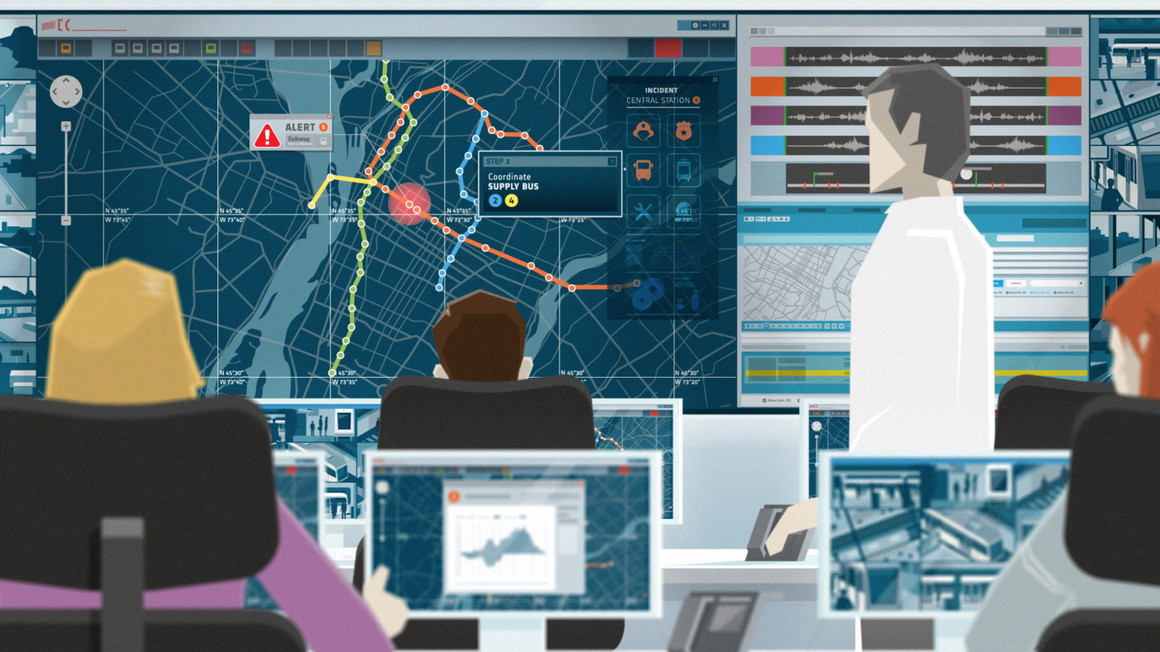 Mastria
Smarter mobility for smart cities
Considering the interdependency of transport modes in today's dense urban environments, an incident on one mode of transport might create series of reactions that will impact all of the city's transportation. Mastria is a traffic planning and scheduling tool that not only detects and reports real-time information from all transport modes to the operators' control centers but also provide advice on which procedure to follow and how to implement corrective actions instantly.
Connecting all stakeholders
The traffic orchestrator acts as a non-intrusive overlay across all of the city's transport modes: trains, trams, bus and more. Mastria also connects up with other essential urban services impacted by network incidents, such as the emergency services, police and road traffic supervision. When an incident occurs on a mode of transport, all the impacted actors are mobilised to ensure the best possible service continuity. The emergency services can operate on the incident, other transport modes can be stepped up to provide substitution services, and passenger information can redirect affected passengers in real time towards the best solution for them. It also enables "mobility as a service" by generating high quality information available through open source platforms. This means that taxis, self-hire bikes, park-and-rides and other on-demand services can plug into real-time network information and anticipate ridership.
Reactive and proactive for high efficiency
Mastria's assets are best illustrated during disruption on the transport network, when passengers are affected by a service hitch. But the solution can also be used ahead of major events that could imply service alterations, such as a sport event, a big concert or an anticipated extreme weather event. Mastria uses data analytics to predict the likely level of ridership on services or to size the transport service offer accordingly, preventing congestion whilst also optimising rolling stock and energy resources. 
30
years of experience in traffic management (100 control centres in operation)
Supervision of up to 10,000 vehicles