Commitments
Diversity and Inclusion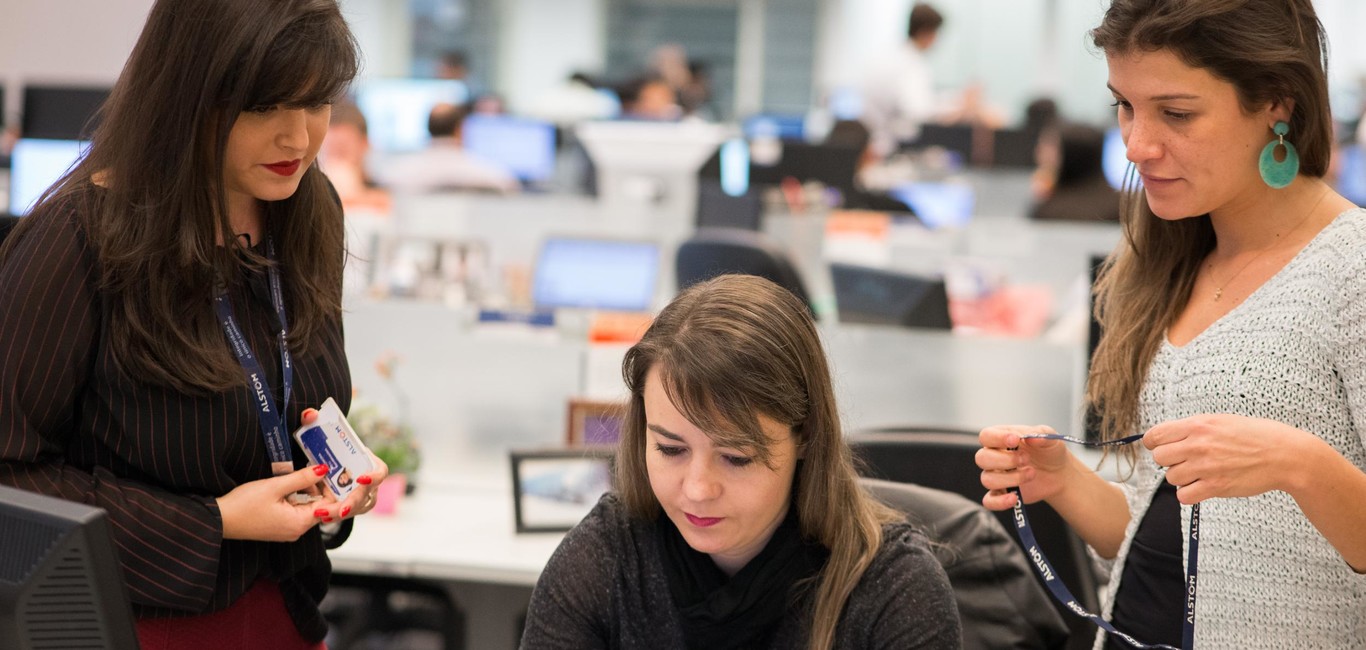 Encouraging diversity and inclusion to nurture creativity and innovation
Alstom is an international company. Wherever we operate, and across all our businesses and product lines, we want to create an inclusive culture in which diversity is recognised and valued.
By bringing together people from diverse backgrounds and giving everyone the opportunity to contribute their knowledge, skills, experiences and perspectives, we create shared value for Alstom and its stakeholders while reflecting the diversity of our customers.
Our People Vision truly embodies the essence of Diversity & Inclusion:
"Regardless of gender, country of origin, age, color, religion, sexual orientation, physical ability and only based on performance, leadership, potential, behavior & competencies, everyone can succeed and contribute to the sustainable success of Alstom"
Clear objectives and vision to enhance diversity
Diversity is a matter of values. It is equally beneficial for growth: diverse teams provide wider perspectives and boost performance and innovation.
Alstom has set measurable objectives for achieving diversity and inclusion in the Company and has set up a robust structure at the group level, as well as within the regional entities to reach these objectives.
The Diversity and Inclusion (D&I) Steering Committee, which is made of members of the top management, is responsible for the development of corporate D&I strategy and definition of global initiatives. It also evaluates the progress of the organisation towards the D&I goals.
Deployment is supported by the regional D&I Champions Network.
The Alstom Executive Committee reviews the D&I objectives and our performance each year. We disclose this information in each annual report.
They foster diversity at Alstom
"Why, when the planet has more women than men, should Alstom deprive itself of female talent? Why, when there are skills everywhere and within everyone, would Alstom prefer a particular nationality? Society today is much more open to difference."
Thierry Parmentier
Senior Vice-President - Human Resources & Environment, Health and Safety
"I believe that diversity enhances team motivation and thus commitment and pride in belonging to the company."
Pete Rogers
Project Manager, USA
Alstom's 2020 D&I strategy
Alstom's 2020 D&I strategy focuses in particular on gender and cultural diversity. 
"We're open to all aspects of diversity, but our objectives have focused on more women and nationalities at key levels of our organisation."
Diversity and Inclusion Director
To address these challenges, the D&I strategy contains a number of specific targets that are to be met by 2020:
46%

Minimum target ratio of each gender serving on the Board. As of March 2018, 42.8% of the Alstom Board members are women.

25%

Minimum target ratio of women in managerial and professional roles. As of March 2018, the proportion of women in M&P roles is equal to 20.7%
In addition, the nationalities of our middle-management should reflect our activities. 
Towards more diversity & inclusion: Alstom's global D&I framework
Alstom is progressing towards its goal: the overall proportion of women managers or engineers in the company, for instance, increased from 18.6% in 2014 to 20.1% in 2017.
At the same time, a lot of ground still needs to be covered. As Hari Menon - recently named Vice President of Talent Management & Organisational Development - admits, change takes time: "reversing a trend can take five or ten years, even a generation. This is a major cultural change that we will continue to drive forward."
To meet its goal, Alstom has developed a global D&I Framework aimed at raising managers' and employees' awareness of the importance of diversity and spread this message, as well as to set clear quantifiable goals and monitoring the success of its D&I policies.
As illustrated by the following chart, the framework is based on three pillars: Tell, Train & Track and sustained by Collective Enablers: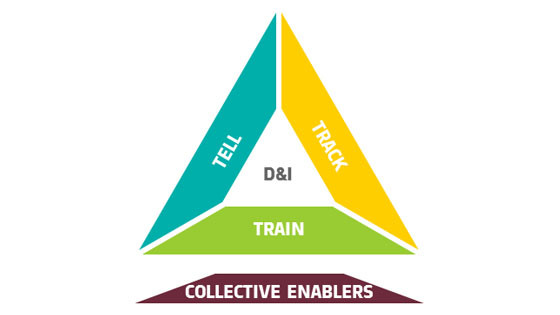 Tell
Communicate internally and externally about the positive impact of Diversity & Inclusion via all communication channels.
Track
Establish qualitative and quantitative objectives to judge the impact of Diversity and Inclusion actions taken and monitor progress.
Train
Provide learning tools for all employees to sensitize and to develop more inclusive behaviours.
Collective Enablers
Adapt internal practices and/or implement new ones, to foster a truly inclusive place to work for everyone, also encouraging communities, suppliers, customers, partners and other stakeholders in this commitment.
It has also culminated in the creation of various flagship initiatives at the regional level, with Alstom Women of Excellence in the United States and Mulheres em Foco in Latin America, but also in partnerships with Valore D' in Italy and Elles Bougent in France.
But change isn't only achieved through external partnerships - it needs to come from within the company too.
"[That's why] we're testing a few ideas: working from home to better balance work and private life, for example, and extending paternity leave in order to give young families more flexibility."
Senior Vice-President - Human Resources & Environment, Health and Safety
In addition, the D&I Framework encourages Alstom employees across the world to set concrete diversity targets which, though they may overlap, will often vary per region. Hence, it is key to identify these best practices and convert them into a regional action plan which adheres to the broader D&I Framework.