Digitale Schiene: powering digital rail in Germany
As a global market leader for innovative train and track equipment, as well as autonomous mobility concepts, Alstom is making a significant contribution to the digitalisation of German rail transport. Alstom has a large role in the integration of ETCS (European Train Control System) on over 13,000 vehicles and train routes across Germany. 
For over 30 years, we have been the driving force in the development of innovative and high-performance mobility solutions for safe and, above all, more sustainable local and long-distance transport that benefits our passengers and the environment.
Our track record over the last 15 years:
13.300
kms of track equipped
Standardisation of the European System

By participating in the development of uniform European standards and the use of ETCS, a uniform train control system is guaranteed within Europe.

Increasing capacity

The frequency of trains can be increased by up to 35%. In addition, ATO enables better catch-up of delays and increases stability in rail operations without having to schedule additional response times for staff.

Saving costs and energy

Energy consumption is reduced by 15% in long-distance traffic and up to 45% in local traffic. Demand and pressure on trains and tracks decreases, reducing wear and tear and enabling easier maintenance.

Improved passenger comfort

The risk of accidents is minimised through a combination of human and technological features. Accurate stopping at platforms, increased punctuality, and less braking and acceleration contribute significantly to improved passenger comfort.
Better flexibility and reliability through ATO
The automation of rail transport ensures greater flexibility, reduced signal distances and maintenance costs with maximum safety for our passengers. In combination with ETCS, ATO forms the foundation for an efficient, sustainable and digital future in European local and long-distance transport. Further pioneering projects in the field of the highest levels of automation are planned for 2023 in France and Belgium.
The transformation of Stuttgart's main station as part of the large-scale Digital Node project serves as an international pioneer project for Automatic Train Operation (ATO). This is the first time worldwide that ATO at the GoA-2 level is being used in commercial regional transport operations on the basis of fully integrated ETCS hardware. The degree of automation indicates the extent to which train operators are supported or replaced, which corresponds to the highest level of GoA-4. For the planned operation start of the first two modules in the Stuttgart Digital Node in 2025, Alstom will equip 115 regional trains with state-of-the-art signalling technology.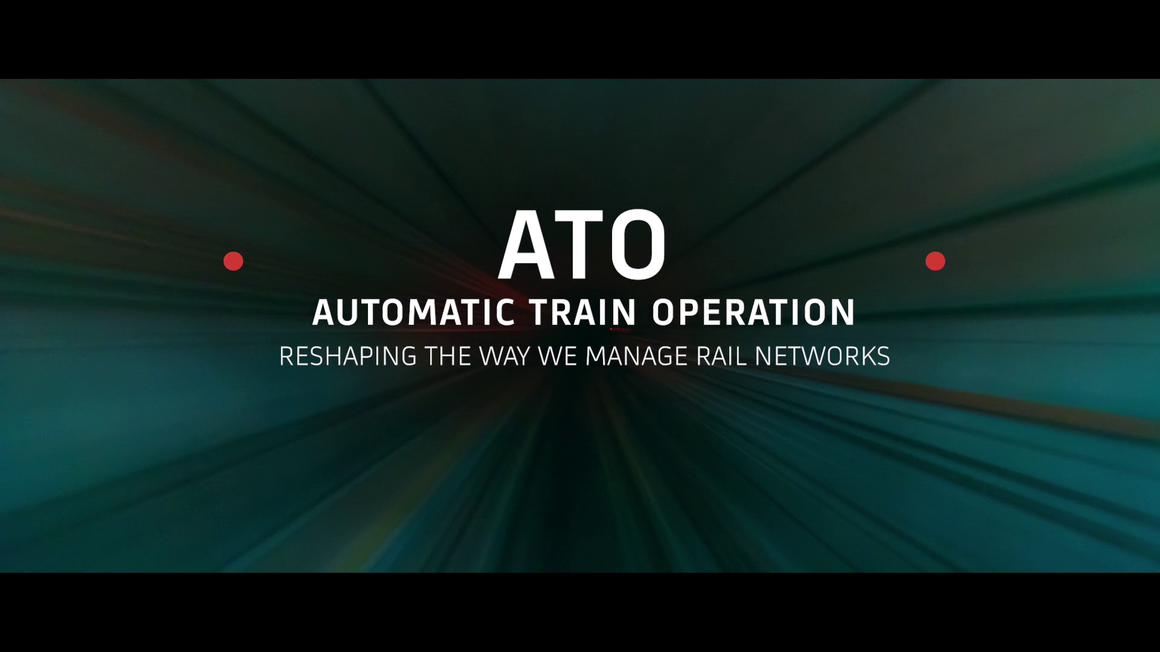 Alstom's digital solutions
The innovative onboard computer from Alstom forms the central technical core of the digital rail fleet. In future, it will be installed in the vehicles as standard. The onboard computer enables the bundled collection of all relevant information from both the on-board ETCS and the trackside equipment. This data is directly forwarded to the vehicle control system and the driving personnel.
With digital interlockings (DSTW), railway traffic is controlled at the click of a mouse. All trackside elements, such as switches or signals, are connected to the central computer units on an IP basis. This simplifies the cabling effort, accelerates the reaction times and massively increases the control distance and the number of controllable elements from the control centre. Thus, DSTWs allow the catchment areas of a single control centre to be enlarged and traffic to be controlled more centrally. In Belgium, Alstom has helped Infrabel to reduce the number of control centres from 368 to 10. The rollout of DSTWs is essential to make digital rail a success.
Safe, standardised cross-border connections
In the future, traffic will be safely guided by digital interlockings and RBCs (Radio Block Centres), which communicate commands from the operations control centre to the vehicles by radio. Modern sensor technology makes it possible to detect track signals or anomalies along the line. In the long term, digitalisation will reduce the number of train control systems, which are currently still numerous and different from one another, in order to further standardise cross-border connections. 
The digital transformation of European rail transport requires innovative concepts and technologies. In Germany alone, 35,000 km of track spread over 157 network districts must be equipped with ETCS and other innovations such as ATO.
Read a selection of articles in the trade press:
| | | |
| --- | --- | --- |
| Title | Source | Download (PDF) |
| HealthHub Signalling – a powerful remote diagnosis tool for signalling equipment | (Signal + Draht, 12/2022) | PDF​​​ |
| Innovative cooperation for the vehicle equipment at Stuttgart Digital Node | (Signal + Draht, 9/2022) | |
Das European Train Control System (ETCS) erleichtert den Eisenbahnverkehr über Grenzen hinweg. Die Technologie für das digitale Bahnnetz sorgt für echte Interoperabilität und eröffnet den Weg für das automatisierte Fahren. ETCS macht Streckensignale überflüssig, erhöht die Geschwindigkeit und verringert die Wartungskosten – alles bei weiterhin höchster Sicherheit.
Read how Alstom ETCS is bringing digitalisation to the track: