Motors at a glance
Solutions for all railway rolling stock and electric buses
World leader in permanent magnet motors (~5,200 motors in operation)
Best-in-class expertise
A local presence worldwide (4 sites for motors)
Alstom offers an extensive range of motors from 50 kW to 1600 kW to suit all types of rolling stock and electric buses and their different operating and integration requirements. Generators are also part of the Alstom portfolio, covering 300 kW to 800 kW for regional and locomotive applications.
A wide range for all needs
Capitalising on its extensive expertise and return on experience in all forms of rail transport, Alstom offers its customers a wide series of optimised solutions: asynchronous or synchronous (permanent magnet technology), closed or open motors, different cooling and ventilation options, together with winterisation and tropicalisation if required. Alstom's motors and generators can be fitted to non-Alstom rolling stock, while our experts always guarantee the optimal integration of motors in the bogie and the traction chain.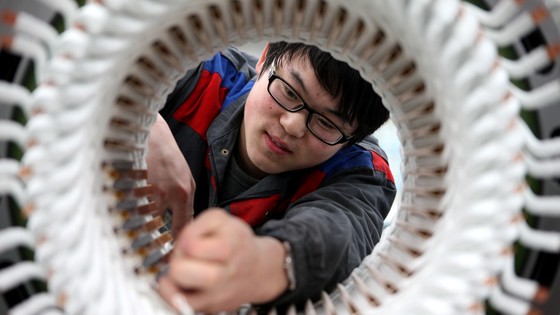 Leading the way in PMM technology
Alstom is an acknowledged forerunner in permanent magnet motor (PMM) technology, a high-performance and economical innovation already adopted by regional trains, tram trains, trams and automatic metros, as well as high speed trains. The advantages of a synchronous PMM stem from its lighter weight and compactness compared to asynchronous motors, which, together with a higher power-to-weight ratio, provide vehicles with higher performances for reduced operating costs. Maintenance requirements are also reduced thanks to the PMM working as a closed motor, removing the need for a fan and preventing the effects of externalities such as pollution, dirt and extreme weather.
Innovation and proximity
For nearly a century, our expertise in motors has been deployed in our expertise centre in Ornans, France, guaranteeing the validity of our latest cutting edge innovation. In addition to this facility, the Hornell and Xian plants in the USA and China respectively, offer local proximity to our clients to guarantee the best solutions to their requirements. We also offer a range of customised services to maintain and repair rolling stock and subsystems throughout their lifecycle, giving our customers peace of mind and their passengers improved availability. For example, Alstom proposes the new cartridge bearing replacement contributing to significant time saving (Maintenance in half the time for the average cycle) therefore economies, as there is no need for dismounting/mounting and cleaning anymore.
motors manufactured every year
15%
up to 15% energy savings with permanent magnet motor at train level
30%
lighter: the weight of PMMs compared to asynchronous motors
Contact us
Fill in the contact form below and your request will be sent to our dedicated team