Prima T6 & Prima T8 at a glance
Powerful hauling capacities
Comfortable driving conditions
Reliability, availability, maintainability
Local manufacturing partnerships
Alstom's heavy freight locomotives Prima T6 (6-axle) and Prima T8 (8-axle) offer high commercial speed and superior hauling power in the most challenging environments.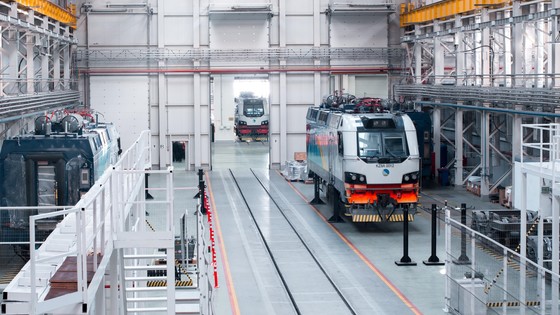 Tractive in all conditions
Alstom's heavy freight locomotives are among the most powerful in the world, capable of hauling up to 10,000 tonnes (Prima T8) at speeds of up to 120 km/h. They can be built to adapt to the different railway gauges, standards (GOST, TSI, India, China, etc.) and voltage levels encountered on long international journeys, and also extreme weather conditions. Prima T8 has been adapted into two versions: to withstand the heat and humidity of India and the extreme cold of CIS countries such as Kazakhstan.
 
Driver-friendly
The spacious driver cabin provides the best possible working conditions to drivers: climate control, refrigerator, microwave, and a toilet on request. It fully complies with all the latest safety and ergonomics regulations so as to ensure that drivers can devote their full attention on doing their job.
Optimal maintainability
Prima heavy freight locomotives stay on the tracks longer thanks to their modular and standardised architecture making their maintenance and spare part management easier. Like all the other members of the Prima range, they benefit from Alstom's TrainTracer condition-based maintenance solution which increases availability and reduces maintenance costs.
Localisation
To provide rolling stock as close as possible to the end customer, Alstom establishes local manufacturing partnerships in or near countries of use, such as recently in Kazakhstan, India and China. This offers benefits in lead times, local employment, and knowledge transfer in an industry where Alstom's experience stretches back more than 100 years.
Prima T8 locomotives ordered
8.8
MW to 10 MW of installed power
19
months of lead time in Kazakhstan