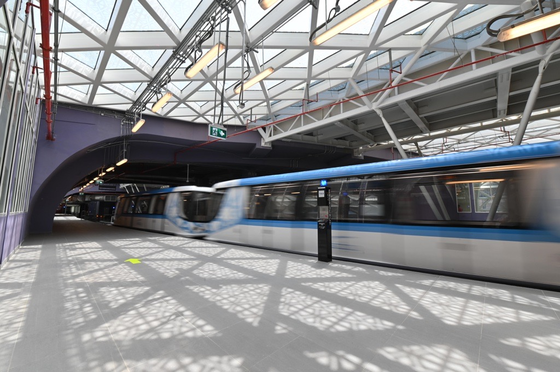 Alstom signs five-year contract with Jeddah Airports Company to provide operation and maintenance for King Abdulaziz International Airport Terminal 1
Press releases and news
11 Oct 2022
Alstom signs five-year contract with Jeddah Airports Company to provide operation and maintenance for King Abdulaziz International Airport Terminal 1
Download as PDF
Press contact: Middle East and Turkey
Press contact - Coralie Collet
The 5-year contract worth nearly €55million, firmly positions Alstom as a leading operations and maintenance provider in Saudi Arabia and the region
A fully staffed team of Alstom experts will provide 24/7 operations and maintenance services at Jeddah's King Abdulaziz International Airport, Terminal 1 – one of the Kingdom's busiest airports overall
11 October 2022 – Alstom, global leader in green and smart mobility, has been awarded a five-year operation and maintenance contract from June 2022 through to 2027 with Jeddah Airports Company (JEDCO), firmly cementing itself as a top performer in the sector of operations and maintenance (O&M) services. The company first secured the contract in August 2019 until June 2021, which was previously awarded due to continued positive performance. The contract is valued at approximately 200 million Saudi Riyal (equivalent to €55 million).
With this contract, Alstom will continue to provide O&M services for the Innovia automated people mover (APM) within the King Abdulaziz International Airport (KAIA), Terminal 1 in Jeddah. The airport is one of Saudi Arabia's largest air facility, occupying an area of 102 km², welcoming up to 30 million passengers through the airport every year.
"We are honoured to sign this contract and solidify our partnership with JEDCO. Alstom has been present in the Kingdom for more than 70 years and our strategy is one of long-term partnership cementing a sustainable legacy within the Kingdom. It also reiterates Alstom's commitment to supporting the development of Saudi Arabia's public infrastructure in line with Vision 2030. We will continue to enhance the performance of King Abdulaziz International Airport by continuing to offer world-class operations and maintenance, with a best-in-class team," said Mohamed Khalil, Managing Director of Alstom Saudi Arabia.
The O&M contract is one of many Alstom projects in Saudi Arabia. The company has also supported the Haramain high-speed rail line between Mecca and Medina and also supplies an integrated Metro System for Lines 3, 4, 5 and 6 and the maintenance for these lines.