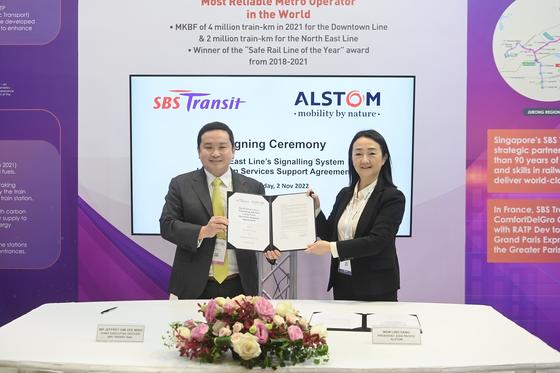 Alstom inks services contract with SBS Transit Rail for North East Line's driverless signalling system
Press releases and news
02 Nov 2022
Alstom inks services contract with SBS Transit Rail for North East Line's driverless signalling system
LTSS contract secured for the world's first fully automated underground driverless heavy metro system 

Ensuring availability, reliability and safety of the 21.6 kilometre metro line1
2 November 2022 – Alstom, global leader in smart and sustainable mobility, and SBS Transit Rail Pte Ltd have signed a long-term services support (LTSS) contract2 for the Urbalis signalling system installed on Singapore's North East Line (NEL). Alstom has been a long-term trusted partner to SBS Transit Rail, having implemented the original signalling system for both companies' first Mass Rapid Transit (MRT) line in 2003. NEL is the world's first fully automated underground driverless heavy metro system. The LTSS will commence in 2023, with Alstom providing technical expertise and local repair activities for the NEL fleet.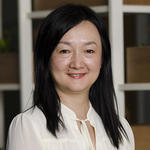 The agreement was signed by Alstom Asia Pacific President, Ling Fang, and CEO, SBS Transit Rail, Jeffrey Sim, during the LTA-UITP Singapore International Transport Congress and Exhibition 2022.
"We are very pleased to be entering into this important services project with our long-term partner SBS Transit Rail. This new agreement is testament to Alstom's growing footprint and ongoing commitment to localising key competencies within Singapore, while sustaining rail reliability. It allows us to invest further in the development of local talent and knowledge transfer which ultimately enhances and promotes Singapore's local rail capabilities," said Ling Fang, President, Alstom Asia Pacific.
21.6
kilometre metro line
>20 yrs
Alstom has been present in Singapore for over 20 years
36
metro cars being delivered for the NEL Extension
Alstom's communications-based train control (CBTC) solution, Urbalis, first entered service in Singapore on the NEL in 2003, helping to ease commuter congestion. Constantly upgraded, the advanced signalling solution aids urban operators in maximising their performance and capacity while providing standard supervision and control supporting their operational needs. Designed for heavy metro ridership, the system offers a considerable range of functions that improve headway and average speed performance.
Alstom has been present in Singapore for over 20 years and is a major supplier of integrated metro systems, digital train control systems, rolling stock, infrastructure and services. Today, all existing MRT lines and the Bukit Panjang Light Rail Transit (LRT) system in Singapore carry the Group's solutions. Alstom is currently delivering the signalling system and six Metropolis trains (36 metro cars) for the NEL Extension.
Alstom™, Urbalis™ and Metropolis™ are protected trademarks of the Alstom Group.
[1] Includes the North East Line Extension.
[2] Booked in Q3 of the 2022/23 fiscal year.