Coradia Stream regional trains at a glance
Maximum speed of up to 200 km/h
Modular configurations from 3 to 10 cars
Low floor accessibility, without ramps and steps
Optimised energy consumption
Easy maintenance and proven components
Solutions with zero direct carbon emissions available
Coradia Stream™ regional trains are a state-of-the-art, low-floor, high-performance electric multiple unit (EMU). The train offers a modular design allowing operators to choose configurations and interiors that work best for their market and mission. Over 650 single-deck Coradia Stream regional trains have already been ordered in several European countries.
One core technology

for all European countries

The modularity enables optimal configuration choices to meet the mission profile – be it suburban, regional or intercity operation. The trains are fully compliant with the main European power supply systems and prepared to fit to standard and broader European gauges. Coradia Stream has been sold to the Netherlands, Italy, Denmark, and Romania

Efficiency improvements

Coradia Stream features longer aluminium car-bodies allowing for a higher number of passengers. For example, Coradia Stream Pop for Trenitalia in Italy can seat more than 300 passengers in the 4-car version and more than 200 in the 3-car one.

Coradia Stream also has fewer motorised bogies thus reducing its energy consumption. For example, Coradia Stream for ICNG in the Netherlands is equipped with a modern traction system that allows regenerative braking, saving up to 35% of the train's energy consumption.

Eco-design

incorporated

Eco-design is an approach that aims to incorporate environmental considerations during the design phase of a product, service or building, with the primary goal of limiting the lifetime environmental impact. The eco-design approach involves analysing the product lifecycle from design to recycling in order to predict its effects on the environment at each stage. A good example is the Coradia Stream Pop for Trenitalia in Italy, that is made with over 95% recyclable materials. The weight reduction and efficient traction of this train also lead to less energy consumption when in operation.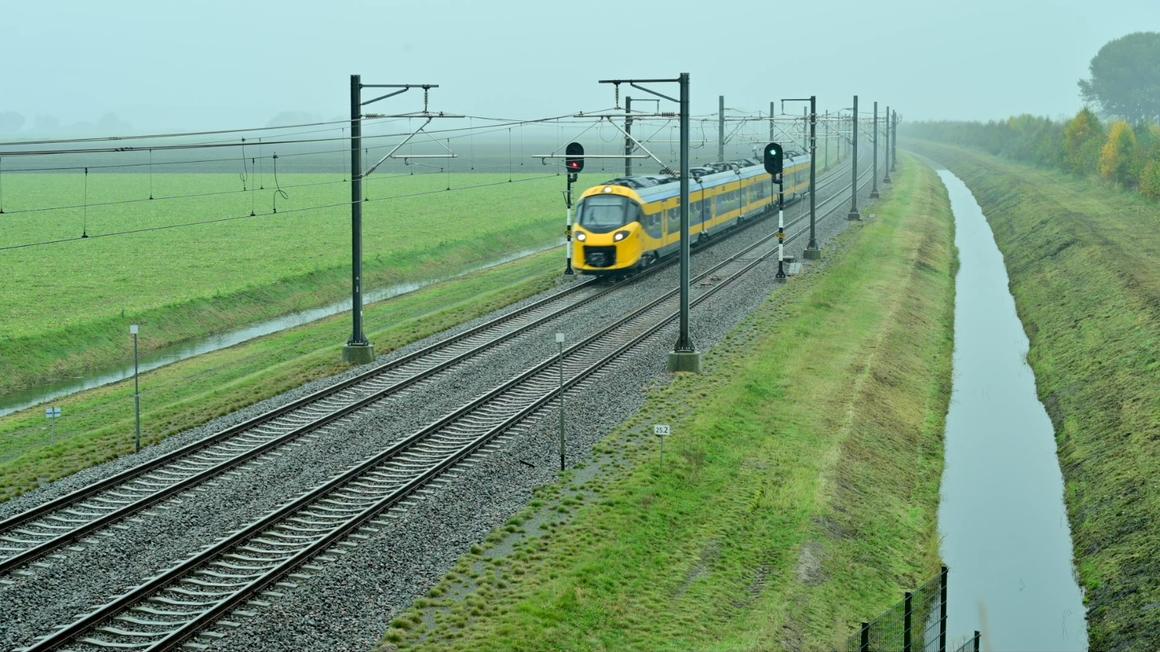 Official launch in July 2022 of Coradia Stream regional train in the Netherlands.
Coradia Stream™ regional train
key figures
12
Sold in 12 European countries
4000
Over 4000 trains sold
Easy maintainability,

proven components

Coradia Stream is supported by digital products like Alstom's HealthHub™ and prepared for condition-based maintenance. The reachability during maintenance is improved due to the arrangement of components on the roof. Daily cleaning is facilitated by cantilever seat fixings, as another example for easier maintenance of the train.

Excellent accessibility for all

Wide entrances, low-level access and fully flat floors between the first and last doors of the train allow for safe and independent journeys for all passengers. Easy low-floor access benefits strollers, wheelchairs and people travelling with large luggage.

Smart trains

to enhance passenger comfort

Train layouts that save on dwell time and optimise standing passenger capacity with free standing area near the entrance. For the regional segment, there is a comfort zone available that target medium distance trip with comfortable seated capacity. For the intercity segment, there is a luxury zone option with layouts that privilege an absolute comfort with differently designed areas dedicated to business, sociality or relaxation. An inviting catering area on-board can be added for enhanced service and a better passenger experience.
Technical details
| | |
| --- | --- |
| Train length, articulated version: | 66-121 m |
| Train length, semi-articulated version: | 110-202 m |
| Doors per car and side: | 1 to 2 |
| Wide door opening: | 1300 mm |
| Access heights: | 620 or 800 mm |
| Concentrated traction: | 1.5 KV DC, 3 KV DC, 15 KV 16 2/3 Hz and 25 KV 50 Hz networks |
Coradia Stream for DSB in Denmark

In 2021, Alstom won the largest train framework contract in Danish rail history with Danish State Railways (DSB), valued at a total of €2.6 billion, with a firm order of 100 Coradia Stream regional trains and a 15-year full-service maintenance agreement.

Coradia Stream ICNG for NS, the Netherlands

Alstom will supply 99 Coradia Stream regional trains (ICNG - Intercity Next Generation) to Nederlandse Spoorwegen (NS) with a maximum speed of 200 km/h and a total passenger capacity of the fleet of 25,000 seats.

Coradia Stream Nordic NT 77 for Norske tog, Norway

Alstom has signed a framework contract with Norske Tog for up to 200 Coradia Stream Nordic. The first firm order was of 30 trains, and now an additional 25 are already ordered.

Coradia Stream for the Romanian Railway Reform Authority (ARF)

Alstom and the Romanian Railway Reform Authority (ARF) have signed a contract for the delivery of 20 Coradia Stream inter-regional trains and associated 15-year maintenance services. These trains will be the first passenger trains provided by Alstom for operation in Romania.