Green traction solutions at a glance
Solutions with zero direct carbon emissions
Solutions for short and long catenary-free ranges
Powered by batteries or fuel cells
Smart energy management
Traction modernisation of existing fleets
As a pioneer in sustainable mobility, Alstom has developed a wide range of green alternative power supplies and innovative technologies to reduce emissions and pollution in catenary-free operation. We are the only railway company to have references of both battery and hydrogen vehicles in passenger operation and our Coradia™ regional train family offers solutions powered by either battery or fuel-cell systems, as well as different re-tractioning options.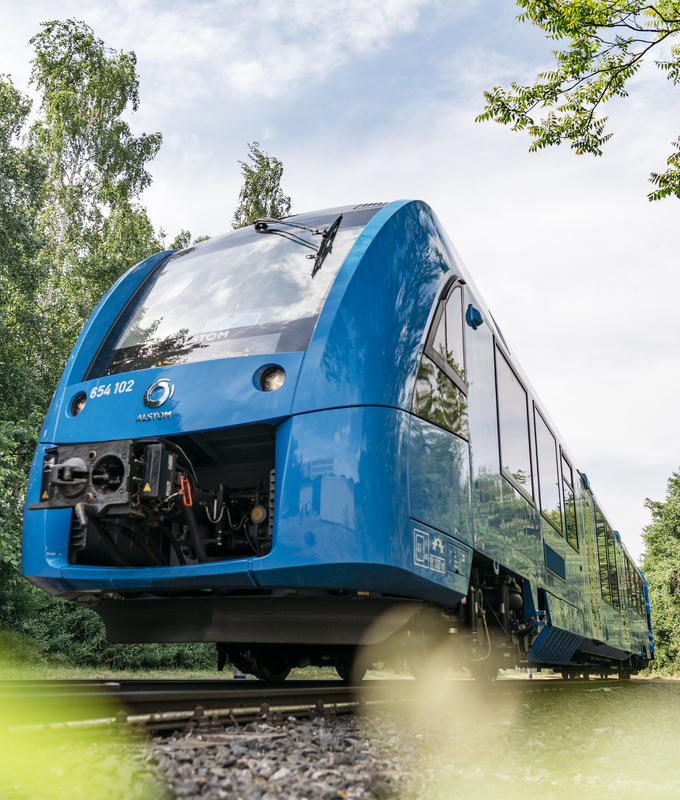 Coradia iLint

hydrogen train

Coradia iLint™, the world's first hydrogen train in passenger service, is a revolution in rail transport, as it represents a clean alternative to diesel. The key advantage of the technology is zero direct CO2 emission when used to power a train - the only exhaust is water. It can cover ranges up to 1,000 km. Coradia iLint has been successfully operated in passenger service in Austria and Germany, and shown in the Netherlands, Sweden, France, Poland, Czech Republic, Slovakia, and Canada.

Coradia Stream H

hydrogen train

Coradia Stream H™ is a fuel cell-powered regional train that enables clean and sustainable service designed to ensure excellent performance. Fueling trains with hydrogen produced from renewable energies eliminates emissions of greenhouse gases.
In 2024, six Coradia Stream H hydrogen trains will begin operation in the Lombardy region. These will be Italy's first hydrogen trains. This Italian experience will further benefit the development of Coradia Stream H, by having a power car containing the hydrogen tanks and fuel cell.

Coradia Continental BEMU

battery train

Coradia™ Continental BEMU is powered by battery, and has a range of up to 120 kilometres. It can be operated under catenary as well as on non-electrified sections without new infrastructure. The train has high-performance batteries on the roof, and can operate up to 160 km/h in battery mode.
Green traction solutions
key figures
41
Coradia iLint are being delivered to Germany
2022
1st serial Coradia iLint started regular passenger operation in 2022
11
On-going delivery of 11 Coradia Continental BEMU
Re-tractioning is another option

Re-tractioning is a smart way to provide alternative to diesel traction for non-electrified and low frequency lines. To modernise a fleet in such a way, Alstom is offering battery, hydrogen or hybrid re-tractioning solutions. The objective of re-tractioning an existing fleet is to reduce energy consumption and cut greenhouse gas emissions.
For example, in France, Alstom has the technology to upgrade dual-mode diesel-electric regional trains to dual-mode hydrogen-electric vehicles. Also in France, diesel-electric operated regional trains are being retrofitted with a battery power supply.


Smart energy management

Alstom Driver Advisory System uses train, track and timetable information to calculate the most efficient way of driving a train while arriving on time at its destination. For example, the system helps to reduce traction energy consumption by up to 15% which will enlarge the operational range of non-catenary-supplied trains such as battery or hydrogen trains.

When to choose battery or hydrogen traction technology?

Both technologies are complementary and respectively appropriate according to the context and requirements. Alstom is uniquely experienced to give advice where also operational costs and investment need to be considered in a Total Cost of Ownership approach. ​ In general, battery technology is more appropriate for shorter non-electrified sections while fuel cell powered trains have a much larger range, comparable to diesel trains.  
Coradia iLint for LNVG, Germany

In 2017, Alstom was awarded a contract by LNVG to deliver 14 fuel cell trains. For the project, Alstom partnered with the gas and engineering company, Linde, to provide the hydrogen. The first train was delivered in 2022.



Coradia iLint for RMV, Germany

In 2019, RMV's subsidiary fahma ordered 27 fuel cell trains. In addition to the trains, the order also included the supply of hydrogen, maintenance and the provision of reserve capacities for the next 25 years. Delivery started in 2022.

Coradia Stream powered by hydrogen fuel cells for FNM, Italy

In 2020, Alstom was awarded a contract by FNM (Ferrovie Nord Milano) to supply six hydrogen fuel cell trains, with the option for eight more. The trains are based on the Coradia Stream regional train platform and will be equipped with the same fuel cell propulsion technology that was introduced to the world by the Coradia iLint.

Coradia Continental BEMU for VMS, Germany

Awarded in 2020, Alstom will manufacture, deliver and maintain until 2032 eleven Coradia Continental battery-electric trains for regional traffic on the Leipzig-Chemnitz route on behalf of VMS (Verkehrsverbund Mittelsachsen) and with the support of ZVNL (Zweckverband für den Nahverkehrsraum Leipzig) - the two authorities responsible for this line.