EKZ: Electric locomotives manufacturing plant in Kazakhstan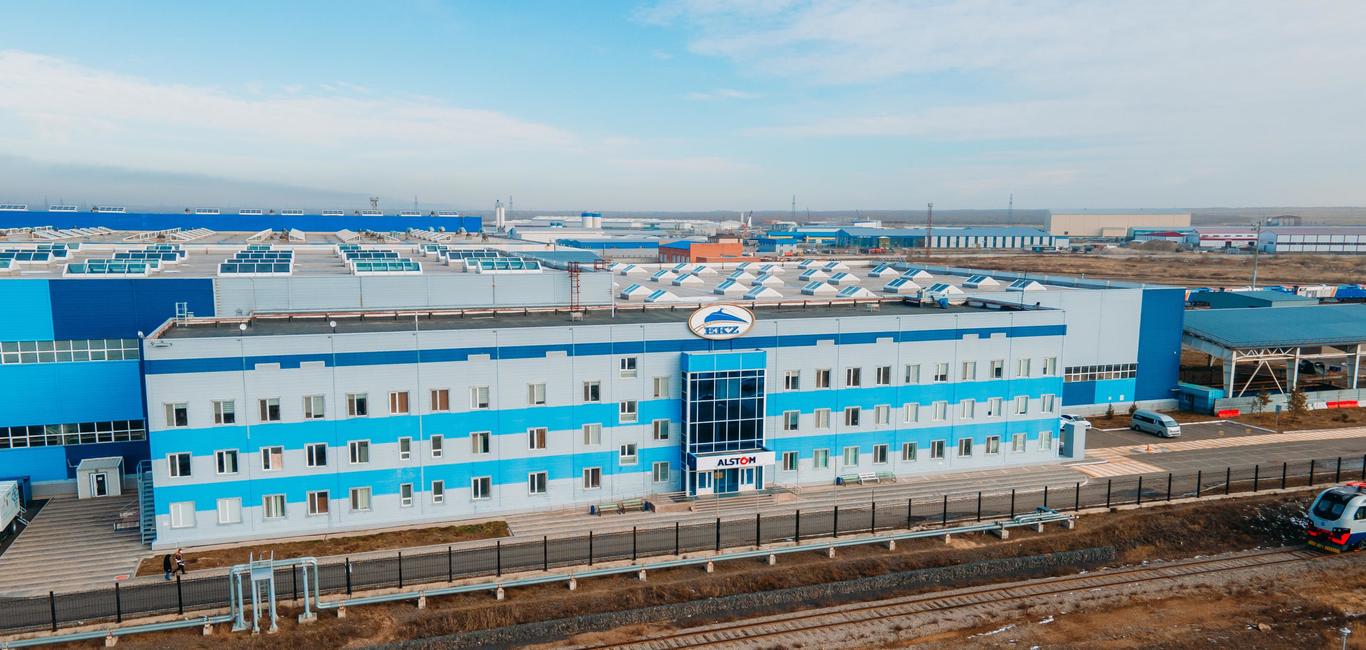 Contact EKZ in Kazakhstan
EKZ. Industrial park
A184 St.10 bld.
Astana, Kazakhstan
010000

kz.ekz-info@alstomgroup.com

+7 (7172) 93 85 10
Alstom entered Kazakhstan's railway market since 2010, laying the first stone with the EKZ facility to produce electric locomotives for the Kazakh rail network. EKZ was inaugurated in 2012 and in 2014, EKZ was awarded a subcontract to supply 40 Prima T8 "AZ8A" freight locomotives to Azerbaijan Railways (ADY). By being the only electric locomotives producer in the region, EKZ developed rigorous business strategies and in March 2022, the site became 100% owned by Alstom.
As of June 2023, EKZ employs more than 700 people and is working on supplying and maintaining the Prima electric locomotives ordered by KTZ.
35,000
m2 industrial zone
EKZ has 6 production workshops: painting, carbody, fitting, transformer, traction and static tests and diagnostics. Furthermore, there are 4 main projects in EKZ: KZ8A, KZ4AT, AZ8A and Transformers & Traction System Converters. EKZ is a full cycle plant with production, localisation, and maintenance. Transformers and traction system converters produced by EKZ are installed in its locomotives and for export with production, localisation, and maintenance.
The EKZ site consists of 4 major parts: warehouse, administrative office, production, and turntable. The large-scale area is devoted to production, including 10 important metiers such as: industrialisation, steel welding, painting, cabling, winding, fitting, testing, commissioning, warranty, and maintenance. Only after these 10 steps of thorough examination, are EKZ products delivered to suppliers.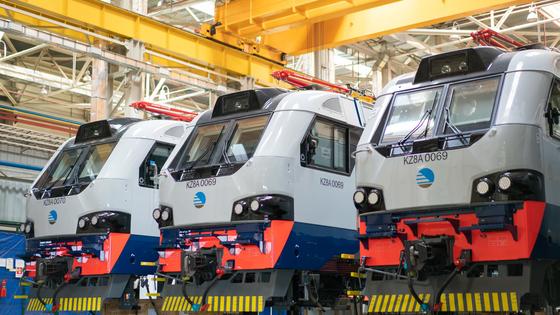 250
KZ8A freight locomotives for Kazakhstan
119
KZ4AT passenger locomotives for Kazakhstan
40
AZ8A freight locomotives exported to Azerbaijan
Prima M4 "KZ4AT" locomotives for KTZ

Alstom was awarded a contract by Kazakhstan Railways (KTZ) for the delivery of 119 passenger locomotives to operate at speeds up to 200 km/h and in temperatures ranging from -50°C to +50°C. The cutting-edge traction system of KZ4AT is based on Alstom's technology and components. This locomotive requires minimum maintenance, providing low lifecycle cost and high levels of reliability thanks to its modular design.

Components: Traction systems

EKZ produces 9 types of traction system cabinets for freight and passenger locomotives
• Capacity: 620+ cabinets per year
• 70 employees to hire at full capacity

Working for EKZ in Kazakhstan
EKZ is a major production site that keeps evolving. Even after its ten plus years tenure, it continues to add new shops and production capabilities. Joining EKZ is joining a worldwide network of cutting-edge Alstom production facilities where we develop and share new skills and technology.
While we tend to promote our own employees to managerial roles, we also love strengthening our team with outside expertise. Feel free to apply whatever your background and career goals.
As part of a global corporation, EKZ offers stability as well as endless career opportunities within the Alstom group.
Apply now and jumpstart your career at Alstom! Find out more about open positions here:
Become a supplier for EKZ
If you would like to introduce your company to our procurement department, please fill out the webform below.