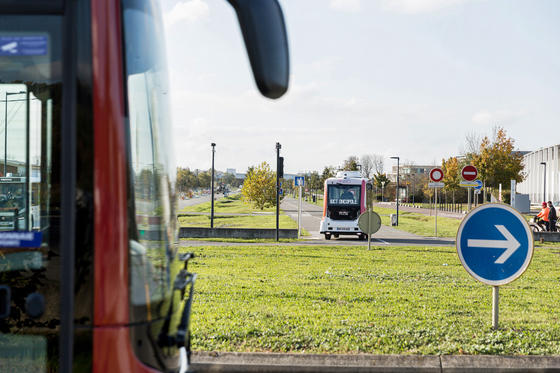 The principle of autonomous vehicle safety already exists. We're making it a reality.
Press releases and news
08 Sep 2023
The principle of autonomous vehicle safety already exists. We're making it a reality.
Inspired by rail engineering, Alstom's new Traffic Light System breaks down one of the main barriers to autonomous vehicle adoption, guaranteed safety.  
Rail is regularly proven to be the safest way to travel over land – well ahead of cars and other forms of mass transportation. So it seems only natural that Alstom, a rail systems specialist, has developed the world's first autonomous vehicle solution certified to the highest safety standards, SIL4. By significantly reducing the risks of a vehicle running a red light (in practice, SIL4 means a one-in-a-billion chance of something going wrong), Alstom's new Traffic Light System (TLS) will help provide the assurance local authorities and users need to adopt autonomous public transportation.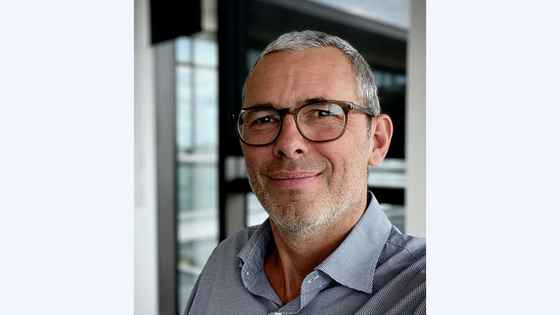 Xavier Toujas has been Alstom's Turnkey Innovation Solution Director since 2022, which means he is in charge of R&D and innovation for solutions delivered from scratch, such as signaling systems and autonomous shuttles.
In particular, Xavier's team was responsible for Alstom's innovative Traffic Light System (TLS), overseeing quality, costs and delivery for the solution, as well as partnerships. This TLS is already in operation in Toulouse and has received SIL4 certification, demonstrating the highest level of safety.
A graduate of the EM Lyon business school, Xavier holds an MBA in international strategies. He also has a Master's degree in Marketing and General Management from Aix-Marseille University. He is fluent in French and English.
Connect with Xavier on LinkedIn!
Real risks require realistic solutions
The U.S. Department of Transportation makes it clear: "You or your loved ones are more likely to be injured due to a red-light running related crash than any other type of crash" – and not just as a driver, but as a passenger, pedestrian or other road user. This critical issue of traffic light safety has put a brake on the rollout of autonomous vehicles, particularly in public transportation, where authorities – like the public – cannot afford to take any risks. As the DOT says in its public safety campaign, "If you run a red light, you are betting more than you can afford to lose."  
Up until now, autonomous vehicle manufacturers have tended to rely on artificial intelligence and cameras to recognize traffic light colors. But there are obvious problems: what happens when the camera is obscured by fog or dust or confused by another green, amber or red object, like a leaf? Under these circumstances, 100% safety is impossible. 
In contrast, Alstom's TLS interacts with electronic traffic light controllers, the boxes linked to the lights and a city's infrastructure, to identify signals or upcoming signal changes and act accordingly. It's two-way communication, which means that vehicles acknowledge receipt of the information. In this more concrete "two out of two" approach, the two pieces of information need to be similar (checked and confirmed) to be acceptable.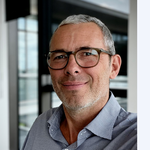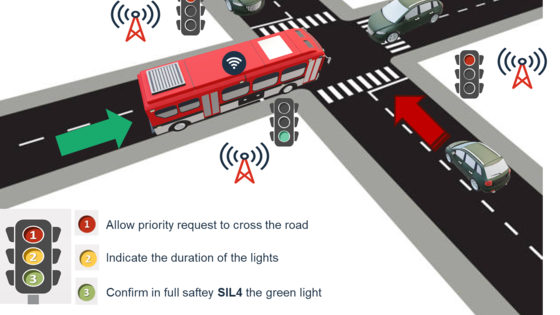 A fail-safe guarantee
Certified to Safety Integrity Level (SIL) 4, this solution provides the world's most fail-safe guarantee of operational safety. In other words, it enables a vehicle to be driven without an onboard supervisor – like automatic metro technology, an area in which Alstom has acquired more than 25 years of experience. As Xavier Toujas says, "It's a big deal. The principle of autonomous vehicle safety already exists. We're making it a reality by bringing what's been missing: the certainty that an autonomous vehicle will never go through a red light. That's one of the worst-case scenarios for a bus with passengers inside."  
While reliable safety is the main innovation, TLS also offers other benefits, like improving the passenger's experience by enabling smooth, gradual braking and higher speeds. And while it was developed for use in autonomous buses, the technology could be applied to other situations, such as level crossings, in the future. 
Fully autonomous minibus using Alstom's Traffic Light System
A decisive step for safer, more sustainable mobility
TLS has already been tried and tested in a first phase in Toulouse, before receiving SIL4 certification in 2023. Now, Alstom is now part of a "Mach2" consortium aiming to launch a network of fully autonomous 6-meter buses by 2026 in the center of Châteauroux, a French city. Working alongside five other mobility players (EasyMile, Equans, Keolis, Renault Group and StatInf), Alstom will provide its TLS, as well as a system for interacting with emergency vehicles at the same level of safety. Xavier explains, "This will allow a police car, fire engine or ambulance to signal its presence to the autonomous vehicle and send its intention; for example, 'please stop because I need to go first.' We can imagine tons of scenarios and make them very safe." 
This latest development has been announced as a decisive step in the development of automated public transport in France and in Europe, helping make citizens' mobility easier, safer and more sustainable. Xavier concludes, "Our intention in developing these products is to support the transformation of mass transit. Cities won't replace all their buses or tramways by automatic buses, or at least not immediately, but we'll likely help them develop a new last-mile offering to connect people in areas where there's no public transport today."